I feel even sadder when I see some of the trash that is still in print on the newsstands. After all the sole purpose of this rally was to save this magazine. And since you have made me hang my head for not supporting the local product, I will subscribe, promise.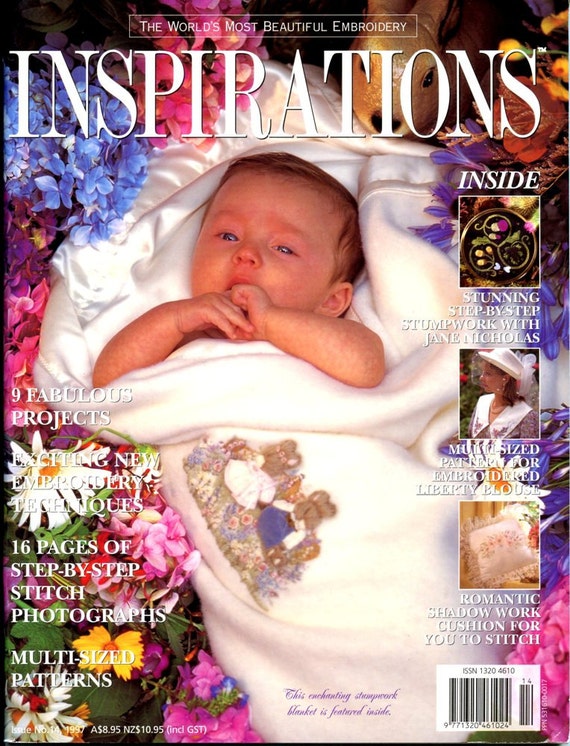 Iron on transfer sheets. Inspirations Magazine - Issue Graceful Schwalm embroidery textured with seven different filling stitches. Gorgeous thimble pod and bell decoration with colourful embroidery inspired by ceram Normal sign of aging. No marks in magazine. Collection of short stories and poems with illustrations.
Double check your issue numbers, etc. I'm a life long crafter and have decided to de-stash in a big way. No fine print here! It is an incredible value for any amount of money! Inspirations is my absolute favorite stitching magazine.
I have subscribed to Inspirations for quite a few years and would hate to see it go away. I have subscribed since the first one. I have lost count of the number of their projects I have either done r based something on! I purchased an issue many years ago, and absolutely love it! I am inspired by your rallying cry for support to subscribe! The only hesitation is financial, not at all because of the magazine.
Come to think of it, the only reason I. Now that my son on the Autism spectrum is six, I am finally having more time and energy for my passion in needlework! Inspired ny you, Mary, I will committ to buying at least one issue!!!! The power of one passionate voice is very powerful! I applaud you for doing your part, and so eloquently!
You should be on their staff!!! Go check it out through the app store or from the Inspirations site. Mary, I so enjoy your emails and website. I ordered a subscription to Inspirations because you requested it! If you like it, I know I will too, and I can share it with my 85 year old mother who is no longer able to stitch, but will enjoy the pictures and articles.
Thank you for keeping us all educated and keeping needlework alive and well! This is the most gorgeous magazine ever. I have most of my copies going back 18 years. I have packed them into boxes to be moved 3 times now. What a shame neither is a USA publication. I have been getting the subscription since you mentioning this magazine three years ago! I look forward to it so much. So much in fact it was nerve wreaking waiting for it in the mail coming from Australia.
I got smart this year. I ordered it from Woolythread. She sends out a newsletter mentioning when she will be posting. It comes all safe and sound in a brown envelope and on time.
Now I know when to have time set aside to curl up with a cuppa and settle it for some eye candy and Inspiration!
I have been a subscriber for about 10 years. Inspirations is a wonderful embroidery magazine. I wish I had every issue. It is that wonderful. You can meet other embroiderers from all over the world by reading this magazine. Inspirations is a great resource so please do support it. Thanks for this tip! I am a beginner and one of thise people who gets completely excited about new things, so I love that this is a magazine that will inspire me in my new hobby!
Thanks for the e-version info; the print version is unaffordable for me as a student living overseas, and this way I can still access such an awesome resource. I subscribed to Inspirations last year based on your review, but I am not going to renew my subscription.
I do hope you drum up enough support to keep it from going under, but perhaps they could need to add more counted-thread articles and projects to entice more of us who prefer that type of stitching. Hi Mary I got the email from inspirations yesterday. I subscribe to their digital magazine through Zinio. It is one of my very favorite magazines it was well worth the 16Cad dollars that I was paying for the printed copy at the bookstore.
I choose the digital because it saves on postage and print. And you still get the same magazine as you would in the printed copy. This magazine is wonderful. Get your subscriptions now. Have a great day. They should offer it in other digital formats from Zinio, and offer subscriptions in places like Amazon, not just embroidery sites. Many crafters do not order their supplies online no one I know does , and I have never seen it for sale in any of the chain craft stores that I can get to.
There are no privately owned stores near me, they are all an hour or more away, so they are only reaching part of the people who might want their magazine. I appreciate digital subscriptions none of the magazines I subscribe to, none craft, offer it that way yet but I will not get Zinio for just one subscription, and another program for another subscription and so forth.
I hope they can stay afloat, crafters need good magazines, but it needs to be available to as many people as possible, and having it available in only one digital format will not do that. Many places offer digital books in several formats so people can choose the format that works with their e-reader.
Perhaps they can also offer past editions digitally at a much lower price instead of having them sit. I wish them luck. Mary, thank you for spreading the word about the need for subscribers to Inspirations magazine. I have collected every issue over the years, and look forward to each new issue arriving in my mailbox.
It would be a tragedy if this magazine were to go away. The quality of the magazine and the projects in it are unequaled in any other publication that I know of. I have my subscription through Wooly Thread, and Jan does a wonderful job of getting the magazine out as soon as she gets her shipment. By subscribing through her, you help a business in this country, plus you support Inspirations Magazine in Australia.
Everyone, please consider subscribing if you have not done so. Thanks so much for posting this appeal! Hopefully enough of us will subscribe to keep this glorious publication in print. We have very few embroidery magazines left. I have every issue of Inspirations and refer back to them frequently. The projects are so beautiful, they never look dated.
I also subscribe to several other digital magazines using Zinio. Imagine my delight to see that Inspirations was available in an electronic format.
Not only was it more economical to subscribe in that way, as soon as I pushed the button, there it was in all its glory! The magazine title says it all—every page is gorgeous! Well worth it…I would encourage others who might be on the fence to subscribe as well. Mary, Thank you for pointing all this out.
I have just signed up for a subscription to Inspirations Magazine. An English language version will be so nice and we must not let this magazine fail. This is wonderful magazine….
I had no idea they needed me but now have subscribed…hope many others will too…. I subscribe to Inspirations and have done for a few years now. It costs me a lot more as it comes to Spain but I am willing to pay the extra just to see all those magnificent projects. Your Site inspires me daily and has prompted me today to subscribe to Inspirations magazine. Though it is expensive, I agree that a magazine of this caliber should not be allowed to disappear.
I am excited about receiving this wonderful magazine…thanks for the push I needed to do this. I really appreciate you putting this news out there. I am a huge fan of Inspirations, I have purchased many older issues online. But I now subscribe to the online magazine. Having a staff of only 7, this magazine is a tribute to their hard work, consistency, dedication, and sheer workload.
That it encompasses the entire planet is amazing. We cannot let this magazine go under. So, thanks for your diligence in putting this news in front of your subscribers.
Inspiration magazine is all you described and more. I had a subscription to the magazine for a number of years and had just renewed my yearly subscription through a US-based delivery company, when that company went bankrupt; and due to the cost of a yearly subscription, I did not renew after that. But, that was several years ago, and your article on the magazine brought back memories of leafing through the pages of Inspiration and loving the articles and tutorials within those pages.
I periodically get my magazines out and brouse through them and love them today just as much as I did when they first arrived at my doorstep. I would hate to see such a quality magazine stop its printing.
I will definitely sign up for a subscription again. Okay Mary, I subscribed to Inspiration mag. Thanks for the heads up. When you mentioned buying a quality publication instead of several so — so publications, well, it made sense! Thanks for all YOUR wonderful inspiration. I have seen lately that Country Bumpkin has change to Create in stich. I was told that there is a new owner. Did I get the good information? If the company have been sold, how can we be sure the magazine you describe will be of the same quality?
Create in Stitch is the retail side of Inspirations. The magazine is still run by the same folks. So their brick and mortar store and their online store and supplies are now separate businesses. Create in Stitch sells Inspirations books and kits. Thank you Mary for your quick answer. I just bought the last number of the e-magazine after reading your critique.
I wanted to check if I liked the magazine enough before subscribing. I looked through it on my iPad. I think I will love it. Thank you for your blog and newsletter. I learn a lot reading it. I think the name says it all — it is inspiring. It is the best needle art magazine out there.. I have subscribed for several years. With stacks of the magazines here, there and everywhere, I decided to go to the digital version. I have it on my ipad so it is always with me to look at, instead of just when home and it saves a lot of paper and space.
This is the same company that does those wonderful A-Z series. Yes, I am doing a sell job, because this is important Sharon-Modesto. Hi Mary, I have been subscribing to Inspirations magazine for a while.
It used to be available to buy over the counter at W. Smith here in the U. K,but they stopped selling it a couple of years ago.
I now have it posted to me quarterly by the only supplier here. It is a lovely magazine, the projects are wonderful,and the news and other articles are great. I often in the past felt that I was the only person in the world who enjoyed surface embriodery before I discovered your website It seems that counted cross stitch and needlepiont have taken over the sewing world except in this amazing magazine, long may it continue, regards, regards, Sue Gooding, England.
Dear Sue, This is a slow response to your E-mail but I hope you can help. Do you still have a UK supplier? If so, could you please let me have the information to apply? I would like to have posted copies rather than digital — printing out and filing digital copies seems less effective than having printed copies. Thank you for reminding me to re-subscribe to this beautiful magazine.
Inspirations, as well, as the British version of Stitch, is, as you said, two of the few magazines devoted to hand embroidery. Well, Stitch does have some machine articles lately but is still worth the subscription. Inspirations has always been my favorite magazine, but the cost had forced me to give it up. Thank you for the information about the digital subscription! I just subscribed and am thrilled to be able to read this lovely source of Inspiration once again. It would be a tremendous shame if this went the way of so many magazines and disappeared.
I have always wanted to subscribe and now you gave me a great reason, so I just did……. I used to subscribe to Inspirations, and I loved it — when I got it. I just purchased the digital edition of Inspirations and absolutely love it. Anyone who is the least bit interested in embroidery would love this, even if you have never picked up needle and thread. It is a beautiful magazine. It would be so sad to see this publication dropped. I still mourn the loss of several high quality magazines that were dropped over the past few years.
I feel even sadder when I see some of the trash that is still in print on the newsstands. Thanks for mentioning this, Mary.
I subscribed just a couple of weeks ago. OMG this is the greatest magazine ever. It is truly and inspiration when you open it up and see all the projects and the great instructions for completing those projects.
I can hardly wait for the new issue to come out. I wish it was a monthly magazine. Their sister magazine Smocking and Embroidery is no longer printed and all of my smocking friends me included are in mourning.
That magazine was also an inspiration. Do subscribe if you can we cannot afford to loose out on all those lovely projects. Do I want to subscribe to this wonderful magazine and help it from going the way of the Dodo bird? Can I afford it? But as it is, dentist bills are killing me. I am a devoted recipient of Inspirations and will continue to be. It is so worth the price, no one should hesitate. I have all my copies and treat them with the same reverence as a published book.
I have them all except a couple. I am a beginning embroiderer but the beauty, quality, and usefulness of Inspirations can not be overstated, in my opinion.
I have subscribed for several years now, and urge all embroiderers to do the same and not let this beautiful magazine disappear. Please do it today! Thanks for raising the alarm Mary. Now that they have digital subscriptions, the price becomes more affordable but I still love paper in hand.
Hopefully, others will join me in supporting this wonderful magazine. I have subscribed since , and I think the magazine is the best embroidery Magazine I ever saw. I got the email from Inspirations and I could have cried. I only discovered the magazine earlier this year, thanks to searching for something on your wonderful site, as I only discovered you recently too.
I subscribed immediately, it is what I have been searching for years to find. And I am busy buying up back copies on ebay as fast as I can. These magazines are truly stunning, and the detailed descriptions mean even a novice like me can make the projects. Long may they last, and I will certainly continue my subscription, costly but oh so worth it! I started surface embroidery in my teens, but after college and marriage had no time to continue.
I took it up again after retiring when I bought my first Inspirations mag. It really inspired me and I have been a subscriber for 10 years. I look forward to each new issue. I too have had a subscription for years.
I just wish I could attend their annual Beating the Bush program. When I get bored with whatever I am stitching, I go back through old issues and always find ideas to get past my current block, or at least something to distract me for awhile. I host several stitching groups at my home each month and have the current issues out on my coffee table for people to peruse. Thank you for this Mary. I have coveted this magazine for years but the cost of a full subscription always was more than I can afford.
This new option of paying as you go is absolutely perfect!! In addition to the Zinio subscription, you can also do it now through iTunes, which I just did. Mary, I have subscribed to Inspirations for several years and wish I had a full file. I am dropping a number of subscriptions now that I am retired but this one is the most important. I can attest to the fact that the pay as you go option works well.
The folks who publish the magazine are dedicated and talented. This is truly the most beautiful embroidery magazine on the market. A little over a year ago I bought my first Inspirations magazine because of your love of it and I immeadiately fell in love with it too. I subscribed straight away and will continue to for as long as possible. There are detailed photographs of how to information on techniques, stitches and the instructions and patterns are included for all designs in each issue.
The A - Z of Smocking Stitches: A must for every smocker. This book is a valuable reference for anyone who smocks. A beautifully illustrated book featuring the stitches of goldwork and silk embroidery. The A - Z of Wool Embroidery: The worlds most beautiful wool embroidery stitches and techniques that will surely be a resource for anyone interested in wool embroidery. A -Z of Embroidery Stitches: This book is a must for any embroiders. A-Z of Embroidery Stitches 2: A - Z of Knitting: Basic sewing and heirloom sewing techniques in easy to follow step by step photos.
A - Z of Heirloom Sewing: Finally the book we've been waiting for. Loaded with photographs of heirloom sewing techniques and tips for the heirloom sewer. A must for your A-Z library. The A - Z of Sewing for Smockers:
This field is for validation purposes and should be left unchanged. Country Bumpkin has been a leader in needlework publications, events and retailing since With a legacy of creating the world's most beautiful needlework magazines including Australian Smocking & Embroidery and Inspirations, as well as the world-famous book series A-Z's and countless other titles, Country Bumpkin has a rich heritage in all things needle and thread. Inspirations is known as the world's most beautiful embroidery magazine for a good reason. Published in Australia and available in specialty needlework shops, fabric and crafts chain stores, and by subscription, this magazine is filled with high-end embroidery projects normally only seen in .